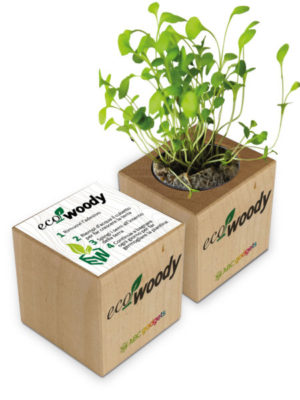 Eco-Woody is the special wooden cube that gives birth to little plants that you can use as an ecological gadget for your green communication. By watering carefully the peat and the seeds contained on the inside, in a few days the first sprouts will come out. The sides of the cube can be customized  with a color or wooden effect print. The cube has a 4x4x4 cm dimension. 
There is a wide range of seeds available.
Customize Eco-Woody with the seed you prefer.
Flowers:
Morning Glory
Daisy
Calendula
Sunflowers
Pansy
Marygold
Forget-me-not
…and many more…
Vegetables:
Tomato
Chili Pepper
Wild Fennel
Cucumber
…and many more…
Aromatic plants:
…and many others…
Remove the patch
Fill the cube with some water in order to make the peat grow
Push the seeds inside the peat
Water it every day so that the plant can sprout
CONTACT US TO KNOW THE PRICE LIST AND THE DELIVERY TIME