ECO-DECORS, the ecological decorations that take life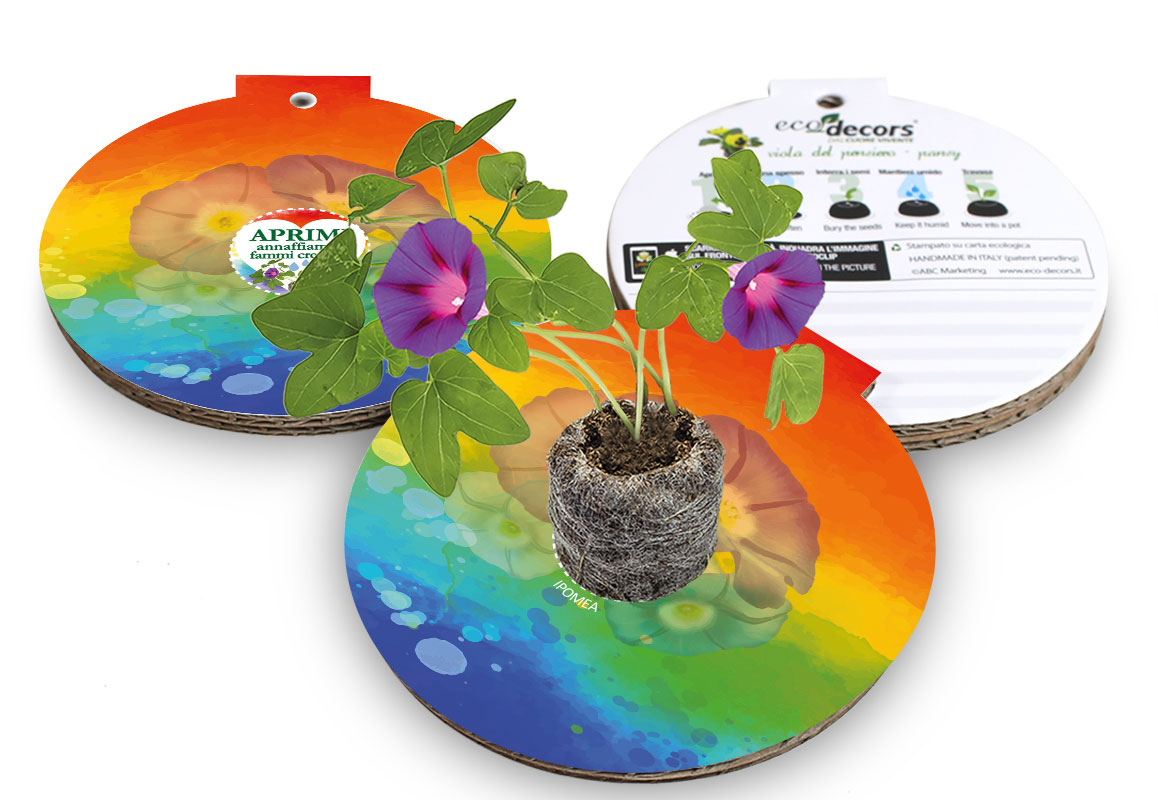 Result of an exclusive patent, Eco-Decors are 100% recyclable cards with a "living heart" which can be used as gift tag, Christmas balls or greeting cards.
With their exclusive shape (little ball, heart or other shapes on request), they are ideal for promotional campaigns with ecological worth.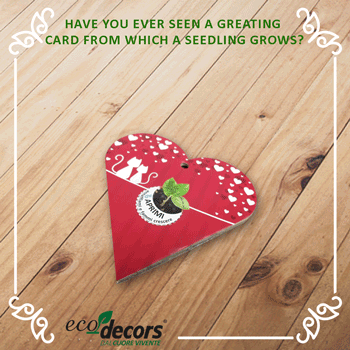 As a matter of fact from these cards real plants grow and blossom:
Morning Glory
Daisy
Marigold
Sunflower
Pansy
Forget-me-not
Tomato
Chili Pepper
Wild Fennel
Cucumber
Basil
Mint
Sage
…and may others…
Just remove the dashed disk in the front, wet often its "heart" and a seedling will sprout in a few days. Keep the seedling wet and it will grow until you can move the plant into a pot to see it blossom.
Customizable
Eco-Decors are the most original and appreciated choice for companies, organizations or public institutions that are looking for a green promotional item for eco-friendly and ethical campaigns.
Eco-Decors can be completely customized in the front and back – both in high or low quantities – with your own image or with a graphic specially designed by our creative team.
Dimensions
BALL = 95 x 100 x 10 mm. The dashed disk is to be put at the center, and its diameter is 25 mm. 
HEART = 100 x 100 x 10 mm. The dashed disk is to be put at the center, and its diameter is 25 mm. 
First multimedia and interactive ecological gadget
At ABC Marketing (exclusive producer of Eco-Postcard and Eco-Decors), we have developed an innovative app for iOS and Android, called ABC URRÀ, that allows you to view a video or another multimedia content in Augmented Reality on your smartphone.
By scanning the logo or the picture of our ecological cards you may discover multimedia contents: greeting or promotional videos and instructions of how from a simple card a real plant can grow.
Try now the surprise effect of Augmented Reality on our green gadgets:
1. Download ABC URRA' App from your favourite store
2. Activate the App pushing the green button
3. Frame the card image with the camera
4. Enjoy the multimedia content
5. Click the buttons at the end of the video to discover the other contents
ABC Marketing can suggest and develope also other special projects with Augmented Reality related to our Eco-Postcard and Eco-Decors or any other printed items.
CONTACT US
Contact us to know the price list and
the delivery time
CONTACT US
Contact us to know the price list and the delivery time