ECO-CARD, the plantable paper with seeds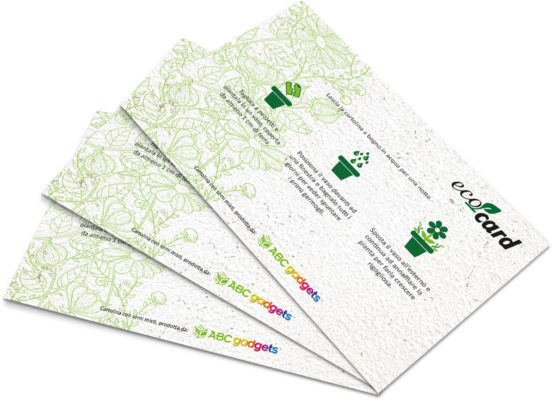 Eco-Card is the special plantable paper. Being completely biodegreadable, it contains the seeds that will give Birth to some small plants. Planting the card directly in a vase, after some days the first sprouts will come out.
There is no limit to creativity! With Eco-Card it's possible to make flyers, bookmarks, invitation or business cards totally ecologic, color printed on both sides.
Customize your Eco-Card with the seed you prefer:
Mixed flowers
Poppy
Cornflower
Rudbeckia
Chamomile
Lavender
Mint
Marigold
Celosia
Soak Eco-Card in the water during at least one night
Cut it into pieces and plant it in a vase, covered by some soil
Place the pot in front of a window and water it every day in order to see the first sprouts come out
Move the vase outside and water it frequently so that it can grow flourishing
CONTACT US TO KNOW THE PRICE LIST AND THE DELIVERY TIME
CONTACT US
Contact us to know the price list and
the delivery time
CONTACT US
Contact us to know the price list and the delivery time